Year 2: Electronics circuits
Requirements : Age 9+
Duration : 32 hours (4 Months)
What is this course ?
1. An electronic circuit is composed of individual electronic components, such as resistors, transistors, capacitors, inductors and diodes, connected by conductive wires or traces through which electric current can flow.
2. To be referred to as electronic, rather than electrical, generally at least one active component must be present.
3. The combination of components and wires allows various simple and complex operations to be performed: signals can be amplified, computations can be performed, and data can be moved from one place to another.
Why this course ?
Learning technology had become a costly commodity like famous kits like LEGO ARE SOLD AROUND 60-70 THOUSAND Rs …which is a heavy barrier for the kid's robotics future, due to which kids directly jump in advance robotics & programming without basic fundamentals.
Our Solution
1. Learning electronics is fun
2. You will be able to repair simple devices
3. You will build even the strangest device
4. Electronics gives more and more possibilities
5. You will join an interesting community
6. You will train logical thinking
7. Electronics is a cheap hobby
8. Electronics teaches accuracy and diligence
9. You will use your knowledge in other areas
10. Electronics does not have to be just a hobby
Learning outcomes

After studying this course, you should be able to:
1. recognise a variety of exciting high-tech products and systems enabled by electronics
2. manipulate voltages, currents and resistances in electronic circuits
3. demonstrate familiarity with basic electronic components and use them to design simple electronic circuits
4. see how signals can be represented in the time and frequency domains for Fourier analysis
5. record, analyse and filter audio signals to improve their fidelity.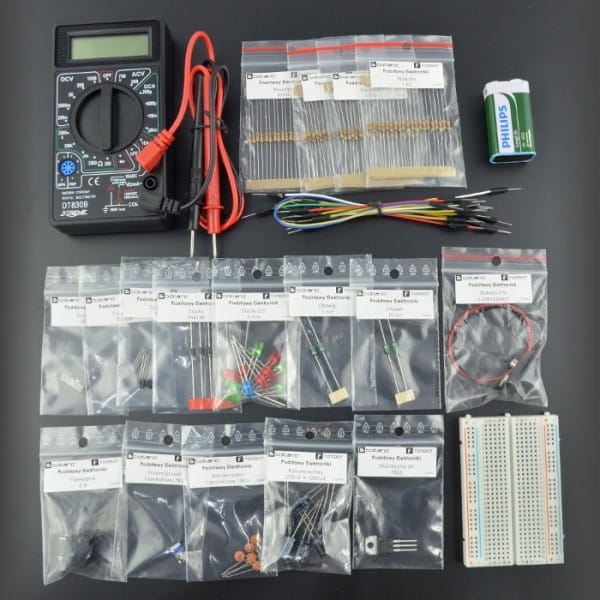 Syllabus
1. DC CURRENT AND VOLTAGE
2. VOLTMETER AND AMMETER
3. RESISTANCE AND OHMMETER
4. RESISTOR TYPES AND COLOR CODE
5. OHM'S LAW
6. SIMPLE LED CONNECTION WITH RESISTOR AND BRAEDBOARD
7. MEASUREENT OF VOLTAGE AND CURRENT IN A SIMPLE CIRCUIT
8. CONDUCTORS,SEMICONDUCTOR,INSULATOR
9. CELL GROUPING-SERIES- PARELLEL-GRID-RESULTANT VOLTAGE AND AH RATING
10. SERIES AND PARELLEL CIRCUITS
11. LED WITH PUSH BUTTON
12. LED CONTROLLED BY POTENTIOMETER
13. BUZZER CONTROLLED BY POTENTIOMETER
14. CAPACITORS-TYPES
15. CHARGING AND DISCHARGING OF CAPACITOR
16 LED FADE AWAY CIRCUIT
17 PN JUNCTION
18 DIODES
19 ZENER
20 FW BIASING AND REVERSE BIASING
21 HALF WAVE RECTIFIER,FULL WAVE RECTIFIER AND BRIDGE RECTIFIER
22 TRANSISTOR
23 TRANSISTOR AS SWITCH
24 TRANSISTOR AS TOUCH SENSOR CIRCUIT
25 AUTOMATIC STREET LIGHT
26 DUAL LED FLASHING CIRCUIT
27 WATER LEVEL INDICATOR CIRUIT
28 TOUCH DOOR BELL CIRCUIT
29 LED DIMMER CIRCUIT
30 ELECTRONIC PIANO CIRCUIT